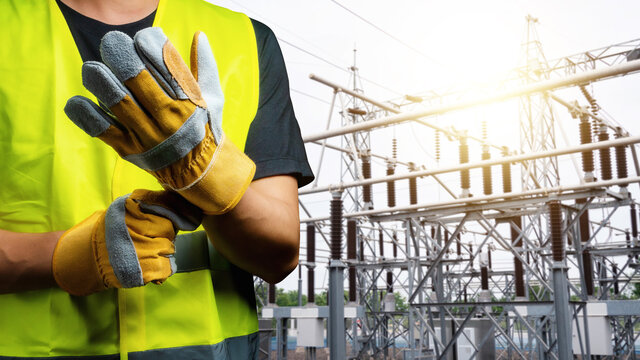 Hand Protection 101: Choosing the Right Gloves
In a fast-paced world where we all need to get things done quickly, it's easy to forget to wear the proper protection to prevent injury.  Often, we jump right in and start a job or task only to give hand protection a secondary thought after exposure to harmful hazards.  
Many jobs require handling of materials that have extreme temperatures, are sharp, abrasive or harmful in some way to the skin.  In spite of this, work gloves are often not considered as a line of protective defense against injury.  
Many work situations can lead to hand or skin injuries, making proper hand protection an important element to safely and successfully completing the task at hand.   Therefore, it's critical to have the right gloves and hand protection readily available.  SupplyLand offers a wide range of gloves and hand protection to meet your needs.  It's common for workers to be confused or uncertain of which type of gloves are appropriate for their job.  Here we break down the hand protection options while discussing the benefits of each and how to choose the right glove for any task.  
Why Hand Protection Matters
According to the US Bureau of Labor Statistics, one in seven nonfatal injuries and illnesses experienced on-the-job involve hands.  Hand injuries amount to medical costs and lost labor.   Hand injuries can also lead to chronic pain and even permanent disability.  Proper hand protection can often prevent or significantly minimize the impact of injuries.  
Occupational Safety and Health Administration (OSHA) regulations require all employers to provide personal protective equipment (PPE) to workers, which includes hand protection.  Be sure your employees have the right protective gear to keep hands safe for every task.  
The Right Work Glove for the Job
Selecting the right glove material and thickness is important as different gloves offer varying levels of protection, flexibility and comfort.  The first step in selecting the right hand protection is to complete a job-hazard analysis to identify worksite risks.  
With so many glove and hand protection options and variables to consider, we've made a list of glove types to help in choosing the right glove to meet your needs.  
What Gloves Can and Cannot Do
Gloves offer a great degree of protection against cuts, slashes and abrasions.  While they can prevent harmful injuries in many cases, gloves are not fool-proof.  The key to selecting gloves that have the right amount of protection is understanding standards and materials.  
Glove Ratings
You will notice different glove ratings referenced when browsing the SupplyLand glove selection.  The National Standards Institute (ANSI) maintains a searchable database of industry guidance and standards.  ANSI/ISEA 105-2016 rated gloves offer abrasion and cut resistance, along with some chemical and flame resistance.  ANSI/ISEA 138-2019 defines impact resistance standards and levels of resistance, using a scale of 1 – 3 for finger, knuckle and overall glove protection.   When choosing gloves, take into account all of the ratings.  
Know Your Materials
All-purpose gloves are constructed of materials such as polyester, nylon and cotton.  Specialty gloves require tougher materials designed to provide specific protective advantages such as protection from cuts or slashes.  There isn't a single "catch-all" glove that is right for all tasks.   Therefore, you may need to utilize multiple types of gloves to cover all of the different types of hazards you may encounter.  
Extra protection in dark or low light conditions can be achieved by using bright orange or lime green work gloves.  Often these gloves include thermal properties to keep hands warm in cold work conditions.   
Protect skin while performing maintenance tasks that involve oil by choosing gloves coated with foam nitrile or PVC.  Coated gloves are available in partially dipped (palm or finger-tip coated) or fully coated options.  
Avoid hand injuries while opening crates or using utility knives with cut-resistant gloves.   These gloves are constructed from highly durable technical materials but typically offer a great deal of dexterity and comfort.   Cut-resistant gloves are often coated with polyurethane which offers a good grip and abrasion resistance properties.  
Glove liner gauges vary and measure the thickness of the glove liner.  Glove gauges typically range from 7 gauge to 18 gauge.   For heavier equipment operation or material handling, use a thicker glove with a lower gauge (i.e. 7 – 10 gauge).   For finer, more precise work tasks, use a thinner glove with a higher gauge (i.e. 13 - 18 gauge).
Glove Best Practices
Making gloves available to your team doesn't ensure they'll be properly protected.  Consider these best practices in the warehouse or on the job site:
Proper Sizing – Measure workers' hands to get the correct glove sizing.  Gloves that don't fit correctly can lead to injury.   To determine glove size, wrap a fabric tape measure around the widest part of the dominant hand and use the circumference as the glove size.  
Glove Inventory – Be sure to monitor your inventory of gloves on hand.  You'll want to have all necessary sizes in stock to avoid workers from up or down-sizing just to get by.  Inspect used work gloves to ensure they're in good working condition and replace as needed.   
Establish Good Habits – Establish a culture of safety and protection with your team.  Educate your staff on the importance of hand protection in maintaining a safe and productive work environment.  Educate employees on proper use and fit.  Include feedback and listen to worker preferences in selecting work gloves.   If workers have a say in their hand protection, they'll be more likely to wear the gloves and avoid costly injuries.   
Keep your business running smoothly with all hands on deck!   SupplyLand can help you find the right gloves for your team and the tasks at hand.  Contact our product experts today.
The information contained in this article is for informational, educations and promotional purposes only and is based on information available as of the initial date of publication.  It is the reader's responsibility to ensure compliance with all applicable laws, rules, codes and regulations.  If there is any question or doubt in regard to any element contained in this article, please consult a licensed professional.  Under no circumstances will SupplyLand be liable for any loss or damage caused by your reliance on this article.