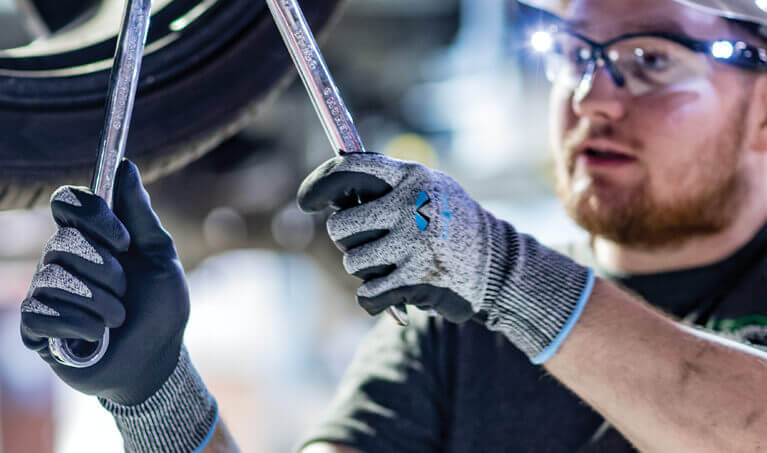 Get a Grip: A Guide to Glove Coatings and Grips
There are a lot of factors to consider when choosing the right glove for the job at hand.  From the temperature and materials being handled to strength and durability factors, it can be overwhelming and difficult to decide on the best glove option.   Fortunately, SupplyLand has you covered!
Grip and coating are two important variables to consider when selecting proper hand protection.  The right glove with the wrong grip can significantly impact efficiency and safety.   This is similar to the concept of playing baseball or soccer while wearing dress shoes.  
Below, we've broken down the types of coatings and grip properties to look out for, along with some details and information about each to help you make an informed glove selection decision.  
Coatings:  Coatings are used to enhance the glove's grip and improve resistance to snags, abrasions, punctures and tears while protecting hands from liquid and contamination.   
Grip:  Grip pattern types and finishes enable stronger or more secure handling of different types of items.
Types of Coatings
Nitrile:  Nitrile coatings offer excellent dry grip which resists snags, cuts, punctures and abrasions.  Nitrile coatings can be enhanced with the addition of foam, which offers a strong grip that stands up well to chemicals such as oils, petrochemicals, fuels and most acids.  
Latex:  Latex coatings offer good dry and wet grip when working with water-based liquids, animal fats, caustics, acids and alcohols.  Latex coatings also resist snags, cuts, punctures and abrasions.  
Polyurethane (PU):  Polyurethane coatings provide good abrasion resistance and dry grip.  PU coatings deliver a fair grip in wet conditions.   PU coatings are able to be applied as a thin layer to the glove surface which helps PU coated gloves maintain excellent tactility and dexterity.
Polyvinyl Chloride (PVC):  PVC coatings provide durable resistance and barrier protection against petrochemicals, oils and grease.  Although PVC is flexible, it does not provide the same level of tactile sensitivity associated with most rubber products.  
Type of Grip
Smooth:  Smooth grips are available in a variety of coatings, including latex, nitrile, PVC, neoprene and polyurethane (PU).  Smooth coatings provide an excellent dry grip.  Smooth coatings can resist liquid absorption, helping to keep the hands dry.
Micro Finish / Micro Surface:  These grip finishes are created when a soft flexible compound, such as latex or nitrile, is filled with air creating tiny suction cups across the grip surface.   As the suction cups come in contact with a surface, they create a vacuum that disperses fluids away from the handled object, allowing a clean contact.  Micro Finish grips work well for handling wet and dirty objects.  
Foam / Micro Foam:  Foam and micro foam grips are available in nitrile, latex and PVC coatings.  This grip is designed to channel liquids away from the surface, allowing better handling in wet and dirty conditions.   Foam and micro foam grips also provide an excellent grip and tactile sensitivity in dry applications.  
Pattern:  Pattern grips include dots and blocks.  When pattern grips are added to the surface of a glove, they provide enhanced grip, performance and durability.  Pattern grips can often be applied to both sides of a glove extending the life of the glove.
Crinkle:  Latex crinkle finish grips are typically thicker and are designed to channel away liquids to allow better handling in heavy-duty wet and dirty conditions.  The thicker coating provides additional protection against cuts and punctures.  
Rough:  Rough coating finishes provide an economical choice for cut and abrasion resistance while pricing good protection in wet and dry applications.
Sandy:  Sanding coating finishes enhance cut and abrasion resistance while providing excellent dependability in wet and rugged applications.
Raised Diamond:  Diamond grip patterns are typically found in food handling and processing applications.   They provide added grip for wet and dry surfaces.  
Honeycomb:  Honeycomb grip patterns are typically found in janitorial, sanitation, marine / commercial fishing and general maintenance applications.  They provide added grip on wet and dry surfaces.  
Before purchasing gloves, take some time to evaluate the job.  Consider the weight and types of materials being handled.  This will help you select the right coating and grip for the job at hand.  SupplyLand has a wide range of coated gloves and grip finishes to handle just about any job.
 The information contained in this article is for information, educational and promotional purposes only and is based on the information available as of the initial date of publication.  It is the reader's responsibility to ensure compliance with all applicable laws, rules, codes and regulations.  If there is any question or doubt in regards to any element contained in this article, please consult a licensed professional.  Under no circumstances will SupplyLand be liable for any loss or damage caused by your reliance on this article.