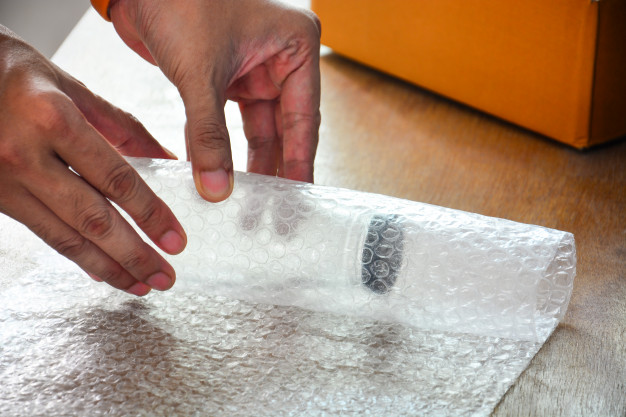 The Right Way to Pack with Bubble Cushioning
So you're ready to move and you're preparing to pack up and move your business or personal belongings.  Bubble wrap cushioning is one of the most common protective packaging products to use.  Bubble wrap cushions and protects breakables from damage that can be incurred during the moving process.  Bubble wrap works to absorb bumps and knocks while helping to prevent breakage of goods and packed items.  Businesses often use bubble wrap when packing and shipping customer orders.  Follow the following steps when using bubble wrap to protect your items and shipments.
Helpful Tips:
Do not rely on bubble wrap cushioning alone to protect breakable items.  Use additional packing material, such as kraft paper, newsprint paper, additional bubble wrap cushioning or packing peanuts to fill open space inside of packed boxes. 
For more highly sensitive, fragile items, select a bubble wrap with a thicker bubble profile.  Do not use less than a 3/16" bubble profile.  Use 5/16" bubble for moderately fragile items.  Use 1/2" bubble wrap cushioning for high value fragile items.  
The information contained in this article is for informational, educations and promotional purposes only and is based on information available as of the initial date of publication.  It is the reader's responsibility to ensure compliance with all applicable laws, rules, codes and regulations.  If there is any question or doubt in regard to any element contained in this article, please consult a licensed professional.  Under no circumstances will SupplyLand be liable for any loss or damage caused by your reliance on this article.