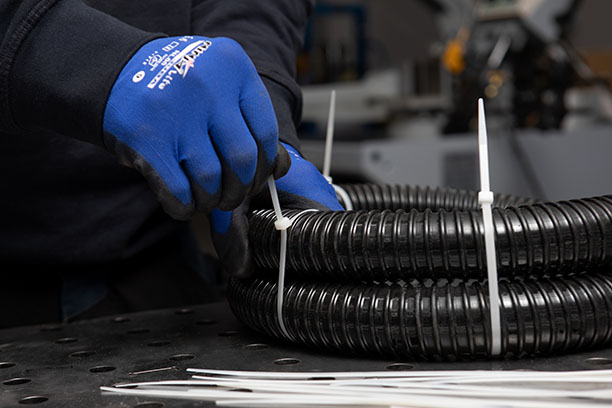 A Guide to Cable Ties
What are cable ties used for?
Cable ties are also known as zip ties.  They are fasteners that bundle cables and wires together to keep them organized and prevent damage.  They come in different sizes, lengths, materials and colors.  They different uses of cable ties vary across industries.   One thing all cable ties have in common is they are the most effective way to manage cables.  
Cable Tie Types
Nylon zip ties
Zip-tie locking mechanism – self locking
Usually single use
Available in UV resistant nylon cable ties and weatherproof cable ties
Available in different colors for color coding
Heat Stabilized Nylon Cable Ties
Heat resistant cable ties
Ideal for applications where heat is generated
Greater stability properties in harsh environments
Mounting Cable Ties
Cable tie and mount all in one for fast installation
Available with different mounting options
Available with tension wings
Belt Cable Ties
Flexible design
Quick release mechanism
Releasable Cable Ties
Releasable zip ties can be used more than once or reusable
Can be opened to add additional cables over time
May be available in different colors
Push Mount Cable Ties
Constructed with mounting device to avoid need for additional fixings
Adhesive base or affixed with screw
Fast mounting process
More secure fastening
Snaps into pre-drilled holes
Screw Mount Cable Ties
Ideal for fastening to either metal or wooden panels
Can be either screwed or bolted down
Marker Cable Ties
Standard zip tie that includes a tag for writing on
Stainless Steel Cable Ties
Withstands high temperatures
Radiation, vibration and flame resistant
Heavy Duty Strap and Buckle
Industrial zip ties for heavy-duty applications
Max tensile strength of 350 lbs.
Steel teeth on buckle grip the strap permanently
Buckle is preassembled on one end of the strap
Heavy-duty zip ties for outdoor use
Double Headed Cable Ties
Keeps two wire bundles separated
No need for additional cable ties
Adjustable Cable Straps – Hook and Loop
Use when a temporary bond is needed
Can be fastened and released several times
Ideal for fragile cables
Reusable
Cable Tie Materials
Nylon produces a high-strength zip tie with good thermal and abrasion resistance.   It also resists most fuels and chemicals.  Nylon 6/6 is the most common grade of nylon use for cable ties.  This material meets UL94 V-2 flammability ratings and can operate in temperatures as low as -40° F.  Typically a nylon zip tie melting point is 185° F.  Nylon cable ties can be heat stabilized for continuous or extended exposure to high temperatures of up to 250° F.  The manufacturing process can also produce UV stabilized ties for outdoor use.  For example, the same cable tie can be manufactured for different applications.  
Polypropylene
Polypropylene (PE) cable ties are excellent for chemical resistance.  PE resists acids, polyhydric alcohols, neutral salts and basic salts, making it a better choice than nylon. PE has a lower tensile strength than nylon 6/6, but it is more flexible.  Polypropylene can stand up to UV exposure.  
Low Density Polyethylene
Low density polyethylene (LDPE) has a high-ductile nature and less than average tensile strength.  As a material for cable ties, it is not commonly used.  The benefits of LDPE is that is stretches and conforms well to surfaces and has excellent chemical resistance to dilute and concentrated acids, alcohols, bases and esters.  It's often used for ties that are meant to temporarily bundle cables.  
Stainless Steel
Stainless steel cable ties provide high tensile strength.  They can also stand extremely high temperatures from -328° F to 1000° F.  There are two types of stainless steel used in cable ties:  304 and 316.  Type 304 is used for general purposes in both indoor and outdoor applications.  Type 316 is used when corrosion is a concern.   
Zip Tie Uses
Aerospace
The average passenger airplane includes 124 miles of cables.  This makes excellent cable management critical.  The types of cable ties needed vary.  For small, tight spaces, miniature heat stabilized cable ties are a must.  For hoses and larger cables, heavy duty heat stabilized cable ties are needed.  Push mount cable ties also work well for aerospace and it's best to go with a heat-stabilized option for thermal endurance.   
Automotive
If cable ties are going under the hood, chemical and heat resistance should be the priority.  In addition to standing up to oil, greases and gasoline, cable ties should also withstand harsh environments.  Push mount cable ties made of heat-stabilized nylon 6/6, rated UV95 V-2 and serviceable up to 239° F are recommended.  Stainless steel cable ties also offer excellent resistance to high temperatures and weathering.  Other cable ties for automotive applications include standard cable ties and screw or adhesive mount ties and arrow head cable ties.
Equipment Manufacturing
Industrial generator parts and HVAC components vibrate.  Screw mount cable ties are ideal for indoor applications.   Fir-tree mount cable ties add additional stability against vibration while providing protection against debris.  For outdoor applications, cable ties that can stand up to the weather and a range of temperatures are needed.  Weather resistant cable ties work well.  Heat stabilized cable ties are ideal for performance in extreme cold weather conditions.
Consumer Appliances and Electronics
These devices offer limited work space and require heat resistance.  Arrow head cable ties are an excellent choice as are heat stabilized cable ties.  They are exceptionally strong with the additional benefit of being cost effective.   For temporary bundling of wires and cables, use hook and loop cable ties.
Enclosure and Cabinets
An indoor data cabinet can fall victim to cable spaghetti, which happens when cables become one big mess.  Standard cable ties can prevent this.  For an outdoor utility cabinet or any outdoor cable enclosure, UV resistance is important.  Weather resistant cable ties are an excellent solution.  
Construction and Mining
In the construction and mining industries, a range of cable ties are necessary.  Some need to stand up to harsh conditions while others need to handle fragile cables.  For example, secure scaffold netting and sheeting with heavy duty strap and buckle ties, which are perfect for demanding applications.  Type 316 stainless steel cable ties provide corrosion, chemical and high temperature resistance.  
How to Remove Cable Ties Without Cutting
A common question is how to remove cable ties without cutting.  You can remove zip ties without cutting if they are single-use, however it will slow down processes to open them.  To open a traditional cable tie:
Stick a pin or your fingernail into the locking mechanism.
Depending on the locking mechanism, either push down or pull it away from the cable tie ribs or teeth.
Slide the tie out.
The information contained in this article is for informational, educations and promotional purposes only and is based on information available as of the initial date of publication.  It is the reader's responsibility to ensure compliance with all applicable laws, rules, codes and regulations.  If there is any question or doubt in regard to any element contained in this article, please consult a licensed professional.  Under no circumstances will SupplyLand be liable for any loss or damage caused by your reliance on this article.